SCIP Tester
Sample Core IP Tester
The Sample Core IP Tester (SCIP) manufactured by Instrumentation GDD is an innovative way to measure the electrical properties of drill cores, samples and outcrops.
---
The SCIP is a portable, reliable, battery-operated instrument for evaluating the resistive properties and IP response of your cores. With this instrument, you get the information that a geophysicist needs to design an appropriate geophysical survey. In other words, you can know if an IP survey would be appropriate. The SCIP will also help you to better define your IP inversion.
Now, you can use your SCIP with your Android devices.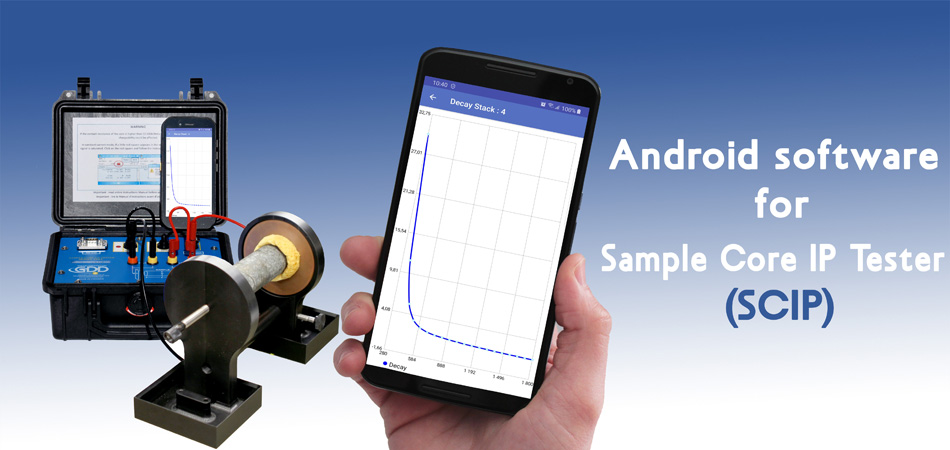 ---
Features
Apparent resistivity and time domain induced polarization (IP) measurement
User friendly and inexpensive
Versatile: use your own core holders
Transfers data from the PDA to your PC with an ISB cable
Screen decay curve (IP)
Provide real time feedback: direct calculation or resistivity and chargeability values
Applications : mining exploration and other related fields
Specifications – SCIP Tester

Total weight (including accessories and shipping box)

8 kg

Total dimension (including accessories and shipping box)

47 x 18 x 39 cm

Operating temperature

-30° C to +60° C
(-22° F to +140° F)

Enclosure

Heavy duty Pelican case, environmentally sealed

Twenty chargeability windows

Arithmetic, logarithmic, semi-logarithmic, Cole and user defined

Noise reduction

Automatic stacking number

Main values read by the SCIP

Apparent resistivity (Ω*m), primary voltage (mV), primary voltage error (%), current (uA), chargeability and chargeability error (%)

Compatibility

Field device PDA Archer2 of Juniper Systems Inc.

Electrical characteristic

IP Transmitter

Signal waveform

Time domain : ON+, OFF, ON-, OFF
Time base : 0.5, 1, 2, 4, 8, 16, 32 and 128 seconds

Voltage mode
(output selection)

3, 6, 9, 12 V

Current mode
(output selection)

0.5, 5, 50, 500 µA

Max power

Voltage mode : 36 mW
Current mode : 6.5 mW

IP Receiver

Contact resistance

Up to 50 MΩ

Input impedance

>130 MΩ

Primary voltage

Up to ±13 V

Differential input

In dipole configuration

Filter

Eight-pole Bessel low-pass 15 Hz

Voltage measurement

Resolution 1 µV, accuracy 0.2%

Current measurement

Resolution 1 nA, accuracy 0.2%

Chargeability measurement

Resolution 1 µV/V, accuracy 0.38%
Continuous improvement
A new optimized version of the core holder is now available including copper electrodes of larger diameter (85 mm instead of 50 mm).
In addition, new features have been added in the user interface offering new choice of time base (16, 32, 64 and 128 seconds) and a new output file compatible with Geosoft software.
All new SCIP Tester have these new features. Older models can be updated on request.