Induced Polarization Receivers
Relative resistivity and time domain induced polarization measurement
The highly sensitive GDD IP Receiver (models GRx8-32 and GRx2) is a compact unit designed for high productivity resistivity and time-domain induced polarization (IP) surveys in mineral exploration, groundwater exploration, geotechnical investigations and other related fields.
---
A new efficient way of collecting 3D Resistivity and Induced Polarization (IP) data for your geophysical ground surveys!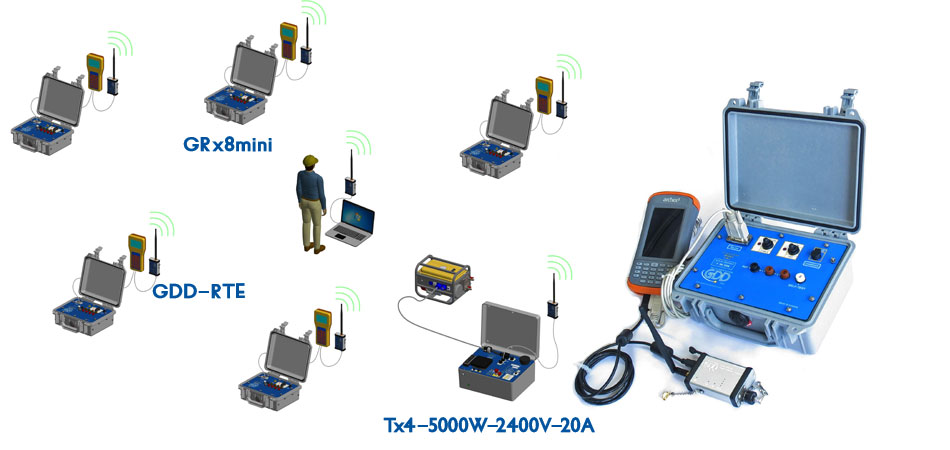 Instrumentation GDD is the only Canadian manufacturer of geophysical instrumentation to offer the possibility to purchase such an innovative system on the market. This 3D IP system in development will stand out in the world of geophysical industry with the ability to do quality control and analysis (QA / QC) of the data directly in the field for each of the GDD IP Receiver model such as GRx2 – 2 channels, GRx8mini – 8 channels and GRx8-32 – 8, 10, 16, 24 or 32 channels.
---
Features
Resistivity and time domain induced polarization measurement
2D and 3D configuration : pole-dipole, dipole-dipole, pole-pole, Wenner, Gradient, Shlumberger and others
Displays waveform, electrode contact, noise, Vp, IP decay curves, apparent resistivity and chargeability values, etc.
Provide real time feedback
Transfers data from PDA to your PC with an USB cable
Applications : mining exploration, groundwater exploration, geotechnical investigations and other related fields
Model GRx8-32
8-10-16-24-32 channels

Model GRx8mini
8 channels

Model GRx2
2 channels

Specifications – IP Receivers

Total weight
(including shipping box and accessories)

23 kg

16.5 kg

7 kg

IP Receiver weight

7 kg

3.1 kg

1.6 kg

Total dimension

68 x 40 x 24 cm

53 x 38 x 21 cm

49 x 18 x 39 cm

Operating temperature

-40° C to +60° C
(-40° F to +140° F)

Dipole number

Up to 32 dipoles simultaneously

Up to 8 dipoles simultaneously

Up to 2 dipoles simultaneously

Type of surveys

Surveys 1D, 2D and 3D

Examples :

4 lines X 8 channels

2 lines X 16 channels

1 line X 32 channels

Surveys 1D, 2D and 3D

Examples :

2 lines X 4 channels

1 line X 8 channels

Surveys 1D and 2D

Adjustment

Automatic synchronization, SP compensation, gain setting and stacking

ADCs

24-bit

Gain

From 1 to 1 000 000 000 (109)

Synchronization

Automatic and re-synchronization process on primary voltage signals

Twenty programmable chargeability windows

Arithmetic, logarithmic, semi-logarithmic, Cole and user defined

Noise reduction

Automatic stacking number

Main values read by the GDD IP Receiver

Apparent resistivity chargeability, standard deviation, % of symmetrical Vp, etc

Battery

Internal Lithium-Ion batteries and optional external Lithium-Ion battery pack

Enclosure

Heavy-duty Pelican case, environmentally sealed

Compatibility

Field device like Allegro2 of Juniper Systems Inc.

Field device like Allegro2 or Archer2 of Juniper Systems Inc.

Field device like Archer2 of Juniper Systems Inc.

Electrical characteristics

Ground resistance

Up to 1.5 MΩ

Signal waveform

Time domain : ON+, OFF, ON-, OFF
Time base : 0.5, 1, 2, 4, 8 et 16 sec

Input impedance

5 GΩ at 0.125 Hz and 130 MΩ at 7 Hz

Primary voltage

± 10µ to ± 15V for any channel

Protection

500V (on each channel)

Input

True differential for common mode rejection in dipole configuration

Voltage measurement

Resolution 1µV, Accuracy ≤ 0.15%

Chargeability measurement

Resolution 1µV/V, Accuracy ≤ 0.4%

SP offset adjustment

Automatic compensation through linear drift correction per steps of 150µ, with resolution of 1µV

Filter

Eight-pole Bessel low-pass 15Hz, notch filter 50 and 60Hz
Optional accessories
Wire roll
Non polarisable pots
Non polarisable electrode
Continuous improvement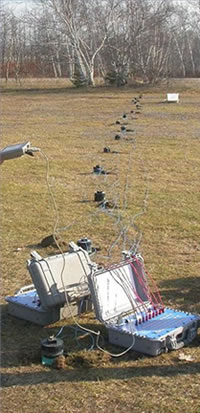 In 2014, Instrumentation GDD releases a new enhanced software version for IP Receivers that allows pole-dipole, pole-pole and gradient 3D, multi-lines configuration (1/32, 2/16, 4/8). This enhanced software also increases productivity by combining new keystrokes on the Allegro PDA. The acquisition start-up process is now easier and a lot quicker. A new time base of 16 seconds has also been included in both GDD IP instruments. Finally, the GPS option has been significantly improved. There is a new output file format with .gps extension. The data in this file are the same than those of the .gdd file including the GPS timestamp.
With the new small, inexpensive and light GDD IP 2 channels Receiver, GRx2 model, with the GPS option, you can now record telluric / noise and remove it from your Resistivity / IP data in order to get better readings. We also install a new external connector on the Pelican box in order to connect the electrodes to the receiver and an external connector for the battery pack to be able to keep the box closed in the field. You can now stand the whole time and keep your IP Receiver in your backpack and protect it against dust and water.
All new IP Receivers have these new features. Older models can be updated on request.