MPP Probe
Magnetic Susceptibility and Conductivity Meter.
The MPP probe measures the magnetic susceptibility (10-3 SI) as well as the relative and absolute EM conductivity (MHOS/M) values of small and large objects such as drill cores, samples, outcrops, etc.
With the MPP probe, you can get the information that you need, to design an appropriate geophysical survey since you are able to establish a correlation between your samples and your EM / MAG survey.
---
Now, you can use your MPP-EM2S+ with your Android devices.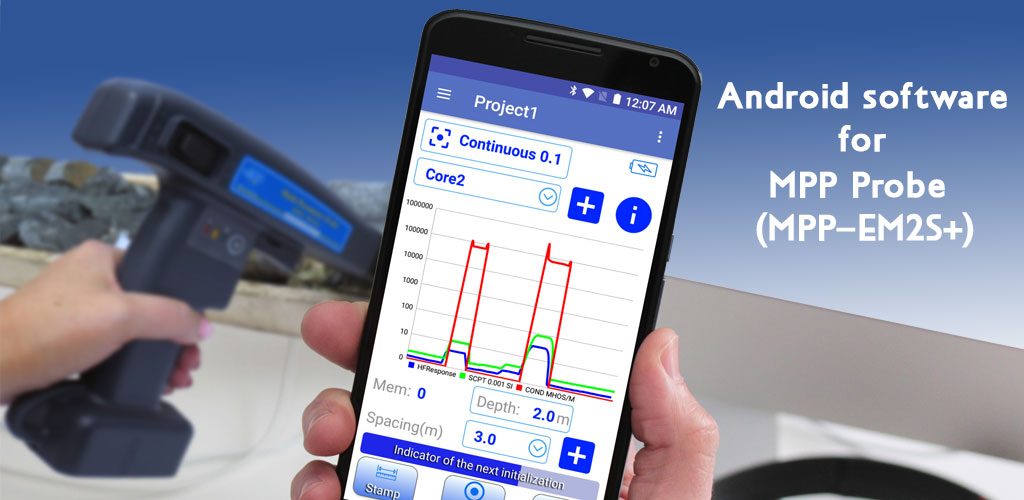 ---
Features
Magnetic susceptibility and EM conductivity measurement
Relate your samples and drill cores to you EM/MAG survey
Log physical core properties and positions in a PDA
Fast results
Robust and reliable
Shock resistant, portable and weatherproof
Wireless communication (Bluetooth) or with a serial cable (RS-232)
Provide real time feedback
Standard data file format in ASCII
Applications: mining exploration, geophysical investigations and other related fields
Model MPP-EM2S+

Specifications – MPP Probe

WEIGHT
(MPP only / in Shipping Box)

0.4 kg / 4.3 kg

Total dimension

32 x 27 x 18 cm

PDA

Somo or Archer2 PDA (Jupiter Systems Inc.)

Reading modes

Punctual, continuous, manual, graphic and
(single reading MPP-EM2S+ only)

Screen

Display real time magnetic susceptibility and EM conductivity reading

Sample rate

Up to 10 times per second

Displayed rate

Every 0.5 second
Continuous improvement
A new version of the user interface is now available. Two new features have been added: a geometric factor correction and a single reading mode.
The MPP probe latest software now provides more accurate EM conductivity values over rock samples. This enhanced calibration will improve EM conductivity readings for conductivities ranging from 0.1 to 40,000,000 S/m (mho/m).
The geometric factor corrects automatically magnetic susceptibility values according to the size of the core and flat surface.
The single reading mode allows the initialization of the probe, taking a reading and retaining the value on the screen. This mode provides more stable and repetitive values.
In addition, a new electronic board was developed and introduced in the MPP probe to protect it against the utilization of a wrong power supply.