See the specs

Kazakhstan, Central Asia
A letter from a customer in Central Asia
"The first GDD Transmitter working in Kazakhstan"
"Pierre,
After already one week of work with GDD transmitter I would like to thank you - you have another happy customer (knock on wood).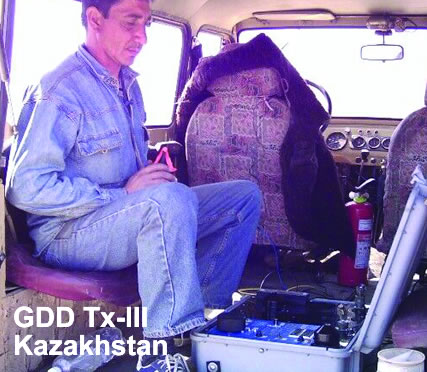 I am attaching a photo of the first GDD unit working in Central Asia. It took about two minutes of training for the operator to get familiar with all controls.
I would like to purchase one more of your nice toys. How fast can you build and test a transmitter?

I will arrange a down payment once closer to civilization, say within a week. Yet, please consider my message as a solid order.

Following one month of work with GDD transmitter I am really very pleased. Fast current set saves us about 25% of survey time and that is a very substantial saving.

Best regards,"
Andrew Rybaltowski, M.Sc., President
GaiaScan Geophysics Ltd.
#406 - 2333 Triumph St.
Vancouver, B.C.
V5L 1L4
Phone:+1 (604) 683-2927